"I was diagnosed with Polycystic Ovarian Syndrome in my 20s
and I got pregnant for the first time when I was 32."
I had an active lifestyle pre-pregnancy—I went to the gym regularly on weekdays and spent my weekends surfing with my partner. I would attest that my active lifestyle was one of the major reasons why my pregnancy and childbirth were uncomplicated despite the circumstances.
After the C-Section, I could not go back to the same lifestyle especially with a newborn in tow. It took more than a year to garner my confidence to get back to working out at the gym. I had to remove all my doubts because having a fit and healthy lifestyle is not just for myself anymore. It was for my child.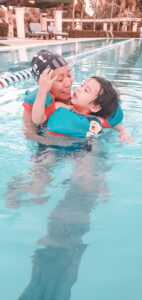 "..having a fit and healthy lifestyle is not just for myself anymore. It was for my child."
I was reading articles on how sports can develop positive life skills for your child. I wanted to empathize with my son, Justin, when he starts getting engaged in sports on his own. Whether he gets into an endurance or a contact sport, it would help me to know how to handle the discipline of the trainings the sport would entail. This is how I got into competitive racing in the first place. I want to be able to influence him to have the same attitude towards sports growing up.
Selecting to participate in an aquathlon was the easy part since I enjoy being in the water. When I was younger, about my son's age (he's 3 now), my mom used to bring me along whenever she did laps at the pool or to the beach to swim every weekend. I have treasured those fond memories I've had with her 'til this day.  I want my son, Justin, to remember those kind of experiences with me when he grows up.
My First Aquathlon Race
My first aquathlon event I signed up for was petite distance (300-meter swim and 3-kilometer run). The actual race was extremely fun. Bike King Philippines held a well-organized event. The multi-sport community is encouraging and uplifting. I had competitors who became my friends after. I thought to myself, "this is the type of environment that I want my son to be exposed to".
Winning first place for my age group category came as a surprise for me! It is a humbling experience to compete with a lot of strong women who are also fellow mothers. I have to admit that I was putting so much pressure on myself a few days before the race. My friend Nicole Pilares, a consistent podium finisher in various competitions, shared this advice "The competition is just training with adrenaline". I told myself that I had to enjoy it and give my best not for myself but for my son, Justin.

"While it was a surprise for me to land first place for my age group category, it is a humbling experience to compete with a lot of strong women who are also fellow mothers."
HOW DID I DO IT?
Training while Mothering
1. I got a [tremendously understanding] coach.
Training for a multisport race ideally requires multiple coaches—a coach specializing on multisport and another for strength and conditioning. I'm very lucky that Coach Jed Balota, Certified Fitness Instructor at Fitness First Platinum Alabang, was able to train me for the aquathlon and also created a thorough workout program in the process.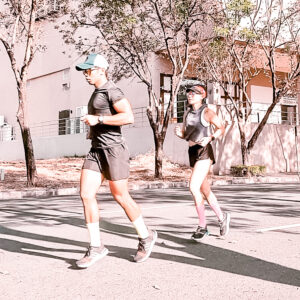 It was very convenient for me that he is also a multisport competitor that he is very familiar with the ropes of racing. He also understood my situation of not being able to travel far for training.
We usually trained swimming at the nearby lap pool and I would tag my son along—Coach watched out for him frolic in the water while I did my laps. "It's also a learning experience for me," he says. "Spending time with Justin even for a short amount of time taught me some things that I can apply when I have my own child."
2. I allocated time for training, mothering and everything else in between.
One great advantage of sleep training my child is I get to allot time to do other things while he's asleep. I would have my strength and conditioning sessions with coach on weekday mornings or train either by myself or with the team on weekend mornings before Justin wakes up. I also squeezed in my cardio training (if I'm not required to go to the office) during his nap time in the afternoon.
I also incorporated some part of my training with Justin by bringing him out to run with me. It's also a bonding time for us because I would buy him a cookie or ice cream along the way. It's a win-win situation: I get to run while he also gets to explore. 
3. I learned to have fun.
Training can get really exhausting and stressful that it got to the point where I questioned my own capabilities. But training with a team made a huge difference in changing the perception about myself. Having male teammates who made training light by always sharing jokes and goofing around during training breaks made me feel at ease about my perception about the race. Plus, Justin had additional playmates on days when I brought him along!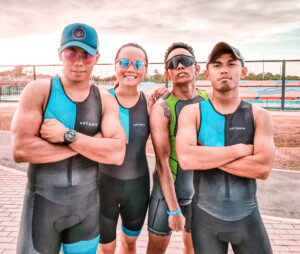 4. I took care of myself through proper nutrition.
The most challenging part of training for me is actually following a strict diet in preparation for a race. However, it is a requirement to follow a meal plan in order to maximize performance for the race. My nutritionist, Gib Osbert Ang of OzCustomizedTraining, recommended me to get some meals from Athlete's Bite, a customized meal delivery service that caters to specific meal plans. I would prepare half of my meals then I ordered the other half from Athlete's Bite since having my own meal plan can be quite expensive while also being tedious to make on my own.
Athlete's Bite also offers a lot of snack options and I would order the Original Peanut Butter for Justin (it's high protein, low on sugar, and it tastes like peanut chocolate!). I hope that my healthy food choices will influence him to do the same when he grows up. 
 I told myself that I had to enjoy it and give my best not for myself but for my son, Justin.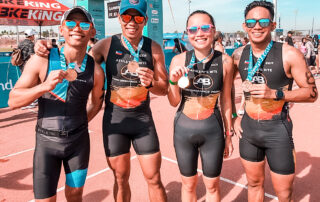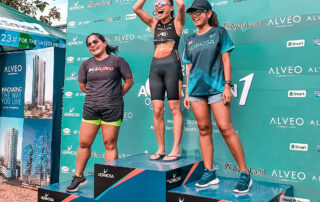 With this experience, I hope to inspire fellow women who question their capacity to be strong. Being a mother shouldn't be limiting us take on new things and stretch ourselves whether it is in sports or any craft you are good at. In the end, we can teach our children to follow the same path.