Les Mères Féroces Ironman 70.3 Puerto Princesa
by Women's Fitness PH
Thinking of joining an IRONMAN 70.3? Let these three mothers inspire you. Teamwork amongst these awesome mothers was on full display at the first IRONMAN 70.3 Puerto Princesa!


Joining an IRONMAN 70.3 competition is surely intimidating. It requires a high level of endurance, strength, and power that takes a lot of time, effort, and budget to fulfill. On top of all these, it takes away time from the people who matter most. But for these adrenaline junkie moms, the rewards truly outweigh the cost: Not only does it help with physical well-being but it is also a testament of grit, determination, and courage that sets a good example for the people you love. 
The Ironman 70.3 is a complex triathlon competition which requires three sport disciplines done in middle distances: 1.9 km swimming, 90 km cycling, and 21 km running. Most triathletes start with one sport which they initially excel in and progress to training for the other two. To get a feel of how IRONMAN races go, a good starting point is joining a relay team with each sport discipline divided to an athlete. For the inaugural IRONMAN 70.3 race in Puerto Princesa, these moms formed a relay team to test the course out!
Patty de Belen.
Patty de Belen, a mother of a 5 year old boy, started to swim competitively when she was invited by her team to be the swimmer for a previous IRONMAN competition. While she was a leisure surfer and paddleboarder, she had never considered competing for open water swimming. And so at 37 years old, she requested Coach Patrick Joson of Jumpstart Tri to teach her. Through his guidance, she eventually competed in other open water swimming competitions and even became a regular at the podium. With IRONMAN starting her swim journey, she is now a certified swim instructor.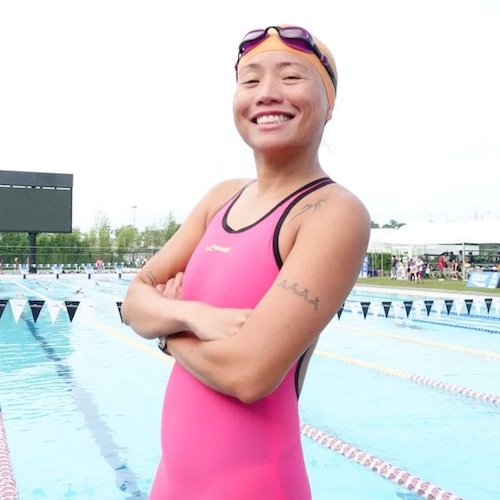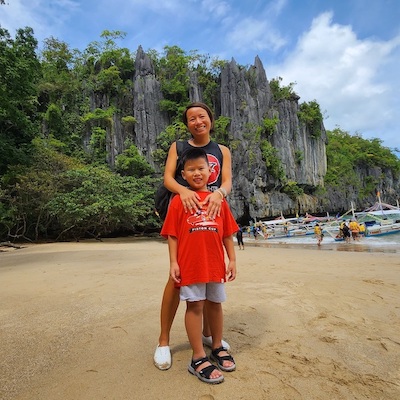 Janiree Rubrico-Dacles.
Janiree Rubrico-Dacles is a mother of two and hails from Bacolod City. She is the co-owner of Warm Up Bikes and is the team captain of its cycling racing team. A proud Ilongga, she helps the Bacolod cycling community by sponsoring races and athletes to compete in various competitions. She competed for the inaugural UCI Gravel World Series held in Bongabon, Nueva Ecija that led her to be a Philippine contender for the first UCI Gravel World Championship in Veneto, Italy.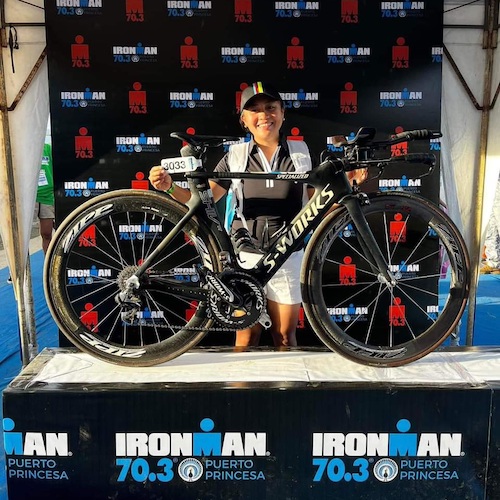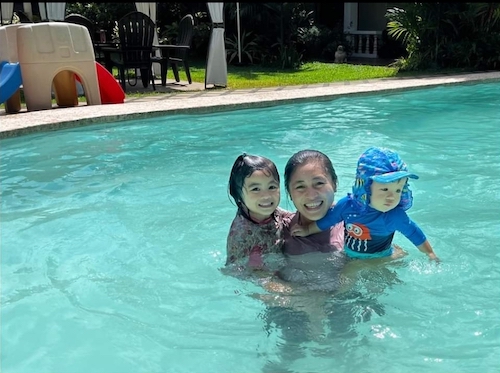 April Rubrico- Uberas.
April Rubrico-Uberas is also a mother of two and the older sister of Janiree. While also a cyclist, she is still a fierce runner that competes in road and trail running competitions in the country. As a teacher by profession, she perceives that sports teaches the youth a lot of values that will be helpful in their development that can carry on to their adult lives.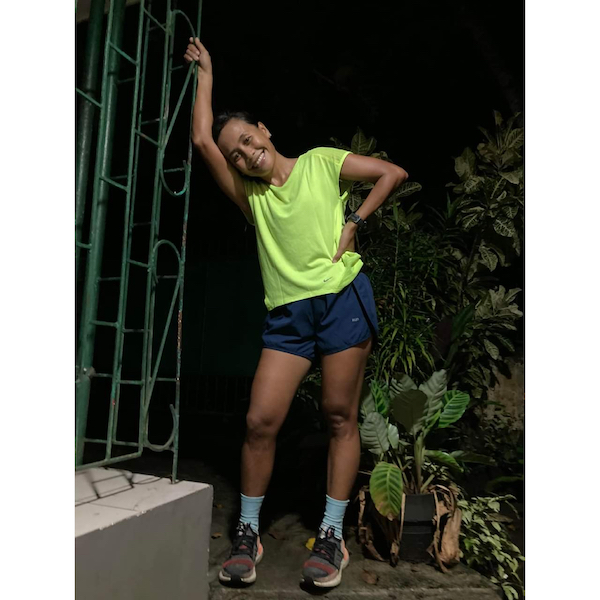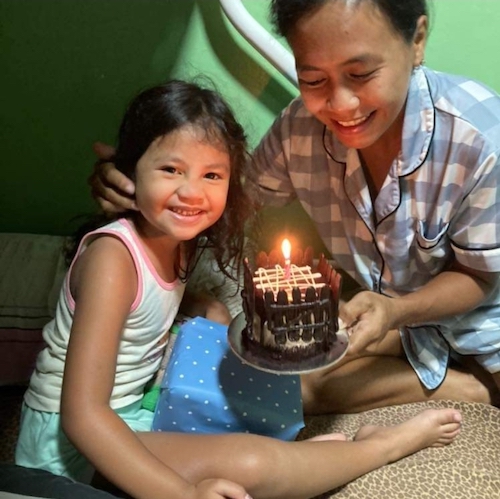 While doing an IRONMAN 70.3 competition solo is gauged by individual capacity, being in a relay team requires a different strategy since each participant has a unique skill set for their dedicated sport discipline. Lani Panahon-Tan, the team manager of Jumpstart Tri, a mother of two, and a consistent finisher in her own right, saw the potential of these ladies and suggested that they team-up and form an all-female relay team for the IRONMAN 70.3 Puerto Princesa.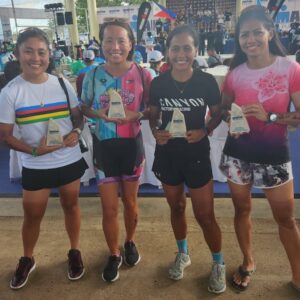 The women competed with 16 teams coming from all parts of the country that included notable athletes that represent the Philippines in international sports competitions. While their aim is just to have fun during the race, they became champions of the All-Female Relay Category proving their advocacy that mothers can be strong physically while also being hands-on to their children.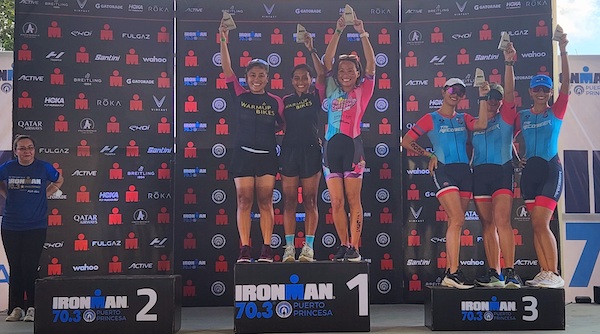 Here are tips from these mothers should you aim to join the next IRONMAN 70.3 race for the first time (whether you'll be joining individually or for the relay category):
1. Start with an open mind
Despite each belonging to a sport that they were extremely confident in, Lani gave the ladies various advice on how to work together and what to train on for race day. Even minute details such as the transition from the swim-to-bike then bike-to-run can make a huge impact and affect the whole team's performance if not properly mastered. Experienced athletes such as these ladies would have their own transition strategy but having an open mind prepared them to finish the race with flying colors.
2. Being a great person leads to teamwork and healthy competition
Despite IRONMAN 70.3 being a competition, It's never a good strategy to lambast other athletes or treat them with disrespect. Being more experienced than others is also not a reason for you to discredit them. Even the best athlete can lose everything in an instant because no athlete is indispensable.
Even if Janiree and April didn't know Patty before the race, Lani made sure that they were acquainted months before. Getting to know each other more, they even discovered that they had so much in common: all are obstacle course racers, and have children that are at the same age. That resulted with them naming their team Les Mères Féroces, which is French for "Fierce Mothers"–a result of common ground between each other.
The team's respect for each other prior to the race turned into friendship. When Patty met Janiree and April for the first time for the athlete's check-in, they felt like they had been friends for a long time which translated well when they became champions of their category.
3. Time management is key in successful training
Training for any competition takes a hefty amount of time. As mothers, time management becomes more challenging juggling between their day jobs, family, and personal time. So how did they manage to squeeze in time to train extensively?
Getting a coach helped Janiree train for her competitions and helped maximize her time for training on top of her busy schedule as an entrepreneur and a mom of two. Coach Don Velasco of Flying Don V Coaching provided Janiree quality workouts instead of just basing too much on load. Janiree also based her training on a lot of data to help her focus on what to improve on.
April runs in the middle of the day to squeeze time for training. As a teacher, her job is a full day affair that starts early in the morning and ends late in the afternoon. It's not the ideal time of training for most athletes, but training midday worked well since the heat when running during that time simulates the run she did in IRONMAN 70.3 Puerto Princesa.
"Make it family time!" Patty quips. "I started training for swimming at a nearby pool and brought Justin [her 5 year old son] along. I also discovered that he loves swimming which inspired me to get my certification. Due to my personal initiative to join races, my son ended up having a personal Certified Swim Coach.🤣"
4. Be humble and stay humble as you progress
While sports is competitive in nature, it can also be collaborative. The mothers were competing with Claire Adorna and Jermyn Prado, both SEA Games medalists. But they were greatly helpful in preparing them for the race despite being competitors. Claire has been giving Patty advice and support and also provided some energy patches she uses when she herself competes. They have competed against each other multiple times, but they always end up cheering for other athletes once the swim leg is over.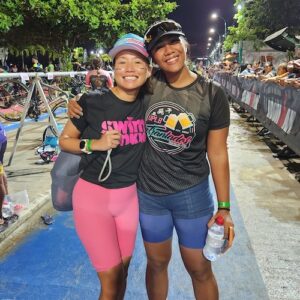 Janiree's bike encountered a mechanical problem while in transit to Puerto Princesa and when Jermyn found out about it, she went to Janiree's hotel room in the middle of the night to have it fixed by her bike mechanic. This allowed Janiree to not miss the track reading session for the race the next day. Jermyn and Pawie Fornea, another SEA Games medalist, also assisted Janiree with the track read on the bike with her the day before the race. Even with their caliber, they were accommodating to help out Janiree.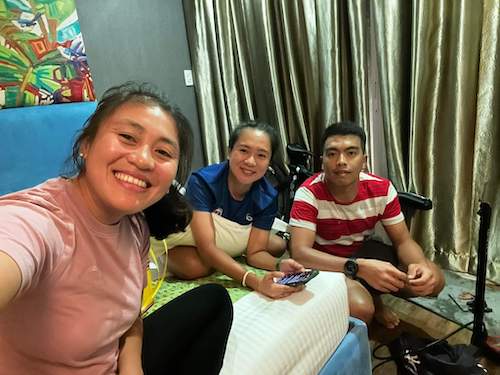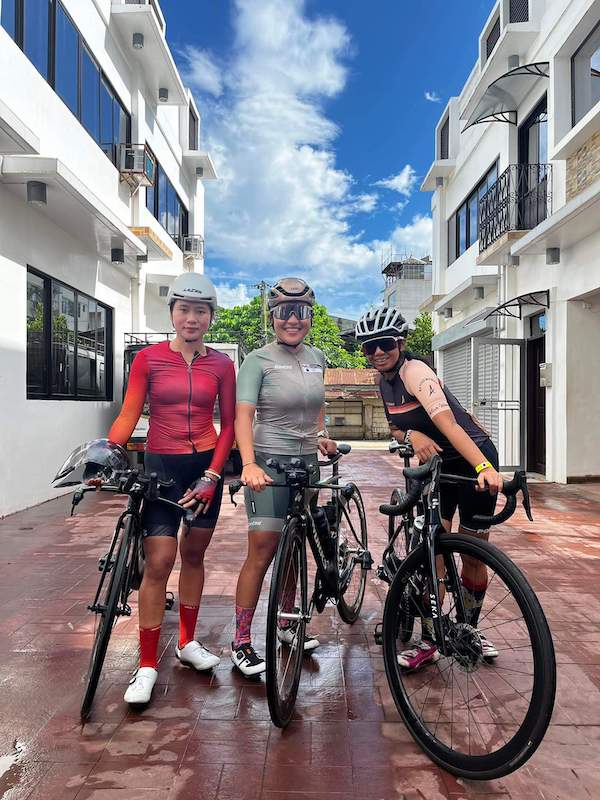 There's always a misconception that women are very competitive with each other. Triathlon races, even as prestigious and competitive under the IRONMAN brand, can bring the best out of each other, especially when helping others. This proves that women help other women–even if they are competing against each other. 
This experience from the IRONMAN 70.3 Puerto Princesa led these women to discover that being mothers helped them achieve their success. That's what being a Filipina mother is about: strong-willed yet nurturing at the same time. Congratulations to the three for their strong finish!
Interested in joining an IRONMAN? Visit the IRONMAN page to register.
Write for




Women's Fitness PH!
We want you to collab with us!




Tell us about yourself.